in Vilnius University Botanical Garden Kairėnai
During the 2022-2023 dark season Vilnius University Botanical Garden in Kairėnai invites you to the new attraction – Art Light Installations Park – a journey of light in Vilnius University Botanical Garden Kairėnai

We started promoting Art as early as the 2021/22 season, when our Lumina Park in Poznań hosted the installation 'Spirits of the Forest' by Marta Mulawa for the first time. We are delighted with this collaboration and will be presenting more and more artists' work in the future. We would like to make Art accessible to the general public, and a visit to Lumina Park an ideal opportunity to get to know the work of great European artists. 
In Lumina Park Vilnius you will find works by Polish and Lithuanian creators, made in a variety of techniques.

LUMINA Park is an Art Light Installations Park.
Parks are located in four cities of Poland – Wrocław, Poznań, Lublin and Bydgoszcz. This year, LUMINA Parks of light installations will be located in few other European cities – Vilnius, Budapest and Prague.
In Lithuania LUMINA Park will be open in one of the most beautiful capital locations – Vilnius University Botanical Garden in Kairėnai.
LUMINA Park features art installations by Jarosław Koziara, Olena Glinka, Mantas Maziliauskas and Marta Basandowska.
Joy, good mood and the most beautiful memories awaits you and your family in LUMINA Park.  We invite you on a journey of light where you will experience and discover the magic of lights, shadows and sounds.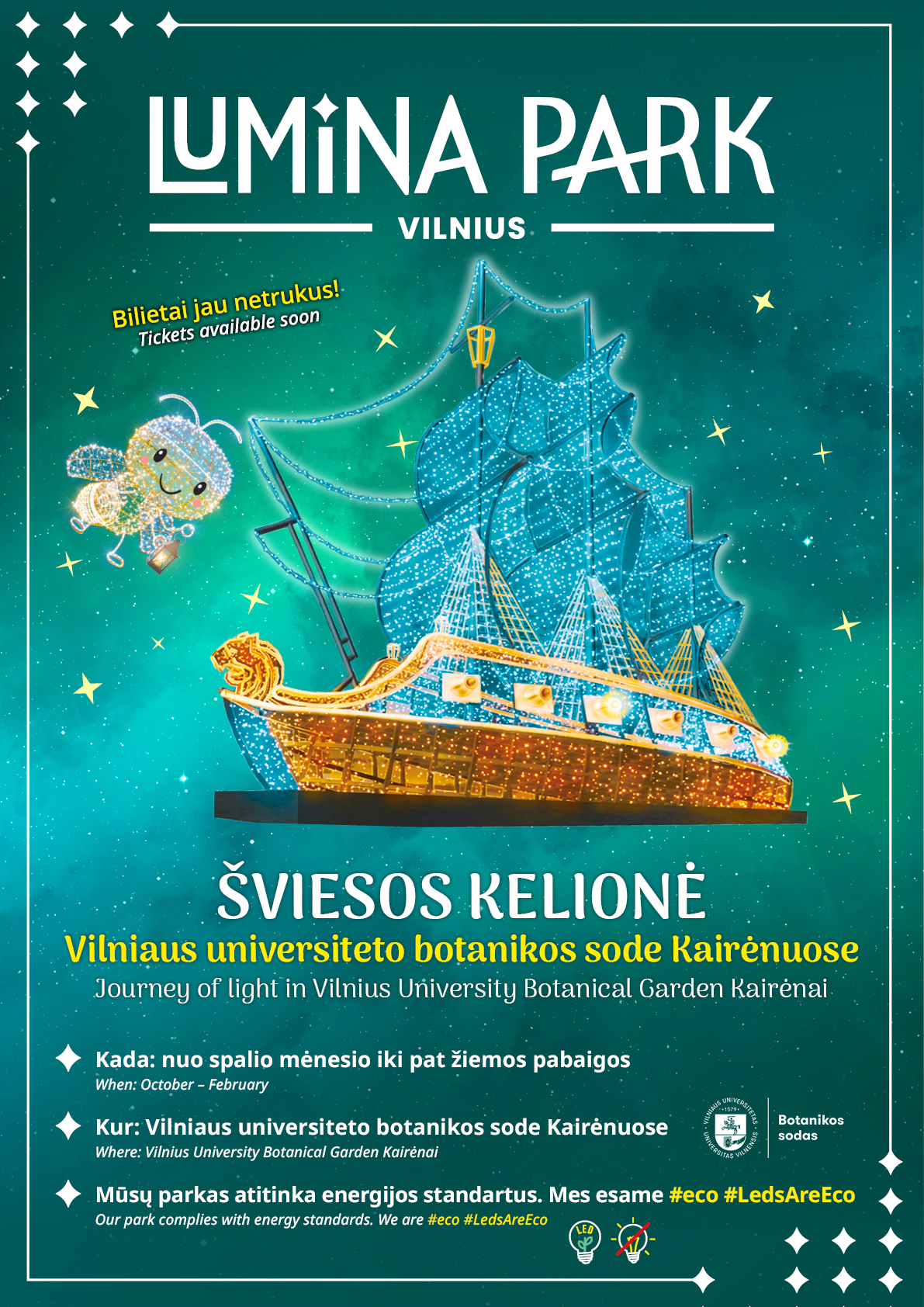 Nasz Park przestrzega norm energetycznych. Jesteśmy #eko. #LedySąEko.
Join us in a magical journey of light!


Friday
–

Sunday
Holidays*
Friday
–

Sunday
Holidays*
Friday
–

Sunday
Holidays*
Tickets purchased online are valid only for the day for which they are purchased.
Children under 2 years old – free entry!
Reduced ticket is valid for children up to 18 years old, students (owners of ISIC or LSP student card), pensioners, disabled people and their carers, VU employees (the document is required).
Family ticket is valid for 2 adults and 2 children or 1 adult and 3 children (children under 18). Larger families can buy a family ticket with a family card.
Holidays* – Weekend prices apply on public holidays. The park will also be open on Monday during this period. 28th October – 6th November, 25th December – 1st January, 16th – 19th February.
The park is closed on Mondays, except 31st October, 19th December and 26th December.
The park will be closed on 24th December.

Sign up and stay up to date