in Vilnius University Botanical Garden Kairėnai

Our collaboration with the artists started in the season of 21/22, with an exhibition of Marta Mulawa's art installation Spirits of the Forest in Poznań. We take pride in such partnerships and strive to promote even more artists in the upcoming seasons. Our wish is to bring the joy of art to everyone, and visiting the LUMINA Park is a great way to discover the works of talented European artists.
In 2022/23 season LUMINA Park in Vilnius featured the works of Lithuanian and Polish artists, showcasing a variety of techniques.

LUMINA is a park featuring the art of light.
The first parks were opened in four cities in Poland: Wrocław, Poznań, Lublin and Bydgoszcz. This year, LUMINA brings the spectacle of light to three more European cities: Vilnius, Budapest and Prague.
LUMINA Park Lithuania is located in one of the most scenic parts of the capital city: Vilnius University Botanical Garden In Kairėnai.
LUMINA Park features art installations by Jarosław Koziara, Olena Glinka, Mantas Maziliauskas and Marta Basandowska.
Spectacle for the eye and the best of memories for the whole family. We invite you to take part on this magical journey and experience the miracles of light, shadows and sound.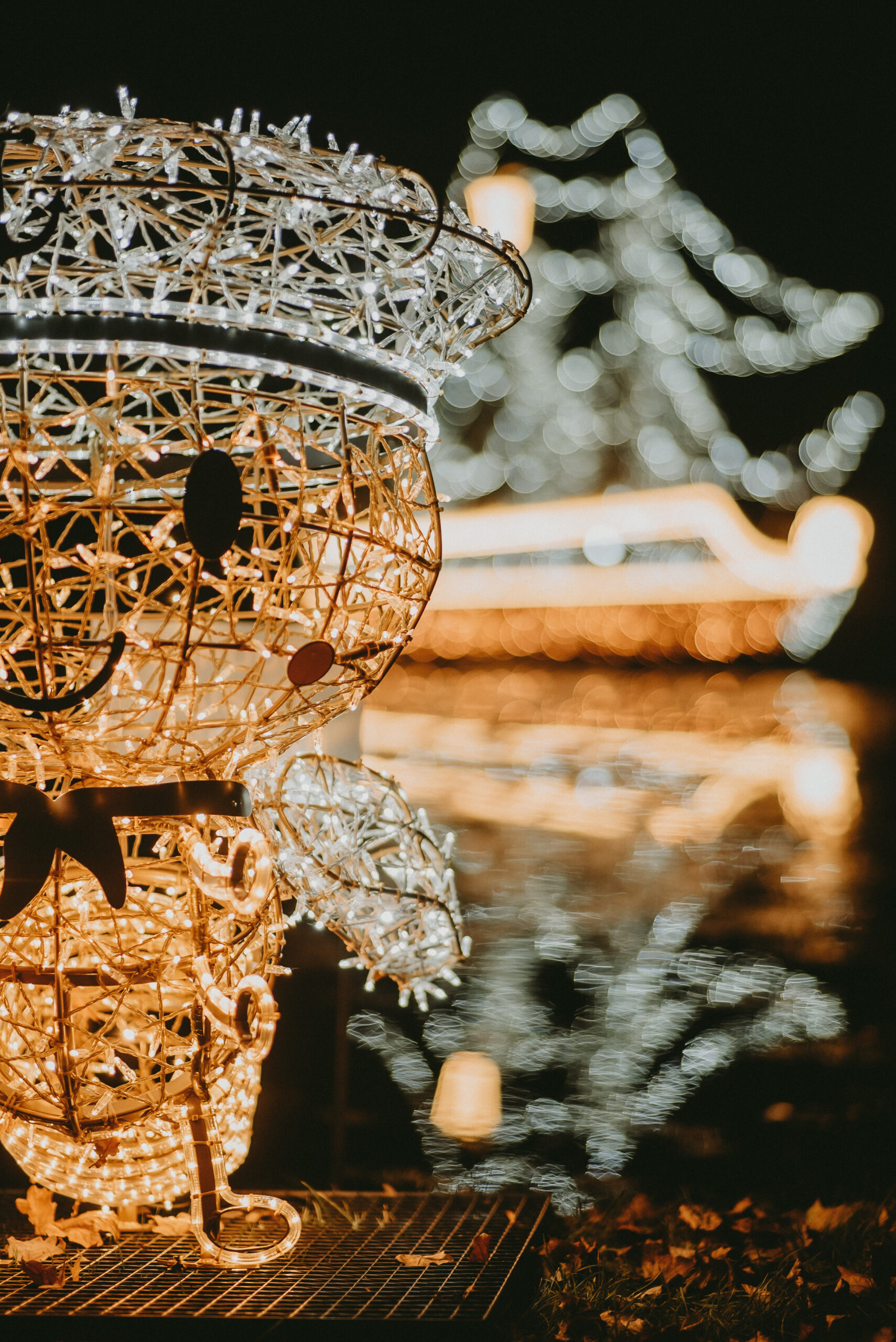 Nasz Park przestrzega norm energetycznych. Jesteśmy #eko. #LedySąEko.
Let's go back to 2022/23 season!


Friday
–

Sunday
Holidays*
Friday
–

Sunday
Holidays*
Friday
–

Sunday
Holidays*
The last day of Park's opening is 21th February. We invite you not only to close the gates together this season, but also to celebrate traditional Lithuanian holiday Užgavėnės. The Vilnius University folklore ensemble Ratilio will help to scare away the winter and light up the traditional frenzy of the characters of Užgavėnės. The ensemble will present traditional music and invite everyone to sing, dance and play. School-age children wearing masks will be admitted to the park free of charge on 21th February!
The park will also be open on 20 February.
Tickets purchased online are valid only for the day selected.
Free admission for children under 2 years old.
The reduction is reserved for children under 18 years old, students (with a valid ISIC or LSP student's card), pensioners, the disabled and their carers, VU employees (proof required).
*Family ticket is valid for 2 adults and 2 children or 1 adult and 3 children (children under 18). Larger families may buy a family ticket with the Family card.
*Holidays: Weekend rates apply on public holidays. During this period, Park will be open on Mondays as well: February 16th – 20th .
Park is closed on Mondays except February 20th.
Pets are not allowed in the park.

Sign up and stay up to date